Studies on How to Follow the Music in a Small Ensemble Context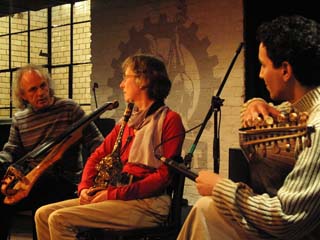 David Friesen is now accepting bass students for lessons and students on any instrument for workshops.
Watch a video of David teaching a college workshop:

http://youtu.be/SgbeVTQxg_k
Goals of the Lessons and Workshops
The lessons and workshops offer hope, encouragement, eliminate fears, improve technical skills and establish confidence in the student's musical life style. Each student will gain self respect and confidence in their playing and will be a more musical player with more depth.
The intent is to help broaden the student's ability and vision of music by explaining:
What to Practice
How to organize a practice schedule
Practice techniques
Composing
How to reveal the special qualities and uniqueness of each individual student/musician
Overcoming fears while playing music
Establishing confidence
How to listen and what to listen for
Strengthening the time feel
How to participate in a small group format, where the music becomes the focus of attention rather than the individual
Purpose and Commitment
Workshop Format
Residents of Oregon and Washington
If you live anywhere in the state of Oregon or Washington the class will meet twice a month. The first meeting, each student musician receives a private lesson, the second time all participants meet to play together in duo, trio, quartet and quintet group formats. There is a 5 student minimum for all cities other than Portland and vicinity. I will pick 2 days in a month, one in the 1st and 3rd weeks or the 2nd and 4th to drive to each city other than Portland to conduct the private lessons and group playing. The duration of the private lessons and group playing is not necessarily based on an hourly schedule. Most of the time the private lessons are longer than 1 hour and the group playing can last 2 hours or more.
Residents of Other Areas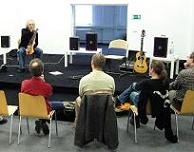 For students living in other parts of the United States or even other countries, the studies can still be taught using cassette tapes, e-mail and telephone (my expense) twice a month in the following manner: In the very beginning I will need a cassette of each student's playing with a group that he or she is a member of, and if possible (but not crucial) as a sideman playing with other musicians for the first time. I need from each student a written statement why music is important to them and what their primary goals are concerning music. This is important information because I need to tailor the studies to fit each individual's needs. The written and verbal correspondence between me and the student will involve studies pertaining to ear training, musical exercises to establish good intonation, time and patience, an effective way to compose music, structure, story telling and many other disciplines.
Music Studies Book Series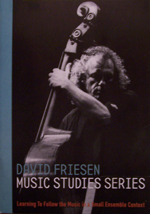 David Friesen now has available a book based on his workshops:

Music Studies Series- Learning To Follow The Music in a Small Ensemble Context.
Price: $10