BEYOND the NOTE… JAZZ MUSIC ESSENTIALS
Dear Musicians, Music Students,
My new lecture series Beyond the Note…Jazz Music Essentials, is based on my experience over the past 60 years, performing in concerts and recording with jazz legends, my own groups and presenting jazz workshops worldwide in over 31 countries including the USA.
This lecture series has 10 topics discussed and are between 45-60 minutes each. The topics are:
Learning to Follow the Music in a Small Ensemble context
Listening and Communication
Time
Patience
Our Individual Personality
Practice Schedule and Concentration
Eliminating Fears During a Performance
Three Multiple Daily Jazz Vitamins
Composition
Music Business
Watch a course synopsis on youtube or a short preview.
The cost is $40 per topic or $300 for all 10 topics. To purchase go to PayPal and send the dollar aount to cpm@davidfriesen.net specifying the entire lecture series or the title(s) of topic(s) desired. A private link will be sent to you containing your choice(s).
Personal Zoom / Skype Lessons for Students Around the World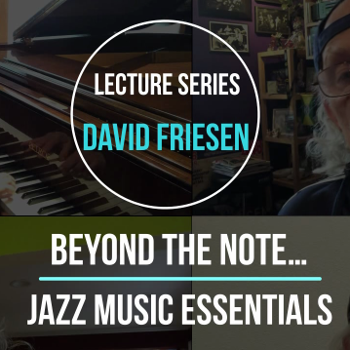 David Friesen also offers private lessons on Zoom and Skype for the bass and all other instruments. If you are interested, contact him atcpm@davidfriesen.net.

Students will have a chance to study with David Friesen on the following subjects for 1+ hour via Zoom. Cost is $40 per subject. For those of you, who will pay before January, 12th the price will be $32 per subject.
Schedule for March/April 2021
#1 The importance of a proper diet in a Jazz musician's life
10am PST Saturday March 6, 2021
Healthy ways of living and taking care of yourself so concentration and other aspects of what is necessary in a musicians life so he or she can always be at their physical best to play as well as they can.
#2 What we can learn from the Master Jazz Musicians
10am PST Saturday March 13, 2021
The masters have a wealth of information that we can learn from to use to improve our own playing, outlook and the perseverance it takes to be successful.
#3 The art of creating melodies that may or not become valid compostions
10am PST Saturday March 20, 2021
Discovering melodies and what to do with them. Why melodies? Learning to use melodies in our improvisations. How we can learn to accept what we discover through hearing.
#4 Embellishing the melodies of Jazz compositions and using the other musicians we are playing with as a way to improvise
10am PST Saturday March 27, 2021
No need to be nervous when soloing. We discover the help from using the melody and what the other musicians are doing as you solo.
#5 How to set up a band on a stage in the most effective way prior to a performance
2pm PST Sunday March 28, 2021
How a band sets up is crucial for a successful performance. There are reasons why the setup is important and all these reasons are explored in depth.
#6 Learning about the characteristics that define Jazz coming from the blues, classical music and protest.
10am PST Saturday April 10, 2021
Exploring various jazz musicians and where their concept and style originated from…either from the blues or classical music.
#7 The most efficient and effective way of setting up a concert tour
2pm PST Sunday April 11, 2021
Exploring all the different requirements for organizing a concert tour. The dates, times, locations and necessities.
#8 The importance of marketing one's self and the music being played
10am PST Saturday April 17, 2021
Exploring the use of social media, radio, websites and help from persons who can help shape a musicians career.
#9 Discussing transcribing other musicians solos, the pros and cons.
10am PST Saturday April 24, 2021
An honest look at the pros and cons about transcribing…who does it and why. The lasting effects of transcribing and why it may interfere with one's individuality.
#10 Keeping one's self from becoming overly discouraged with his or hers own music skills
2pm PST Sunday April 25, 2021
There are ways to overcome discouragement pertaining to our own music, how we play, compose and the skill we have acquired. Learning a few simple rules that can keep each one of us from thinking less of our selves.
Studies on How to Follow the Music in a Small Ensemble Context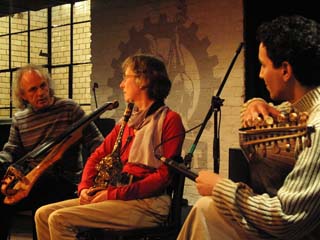 David Friesen is now accepting bass students for lessons and students on any instrument for workshops.


Send email to cpm@davidfriesen.net to inquire about lessons.


Contanct Dan Waineo at danwaineo@gmail.com for information about ensemble workshops in Portland, Oregon.
Website


Contact Jerry Simon at jsimo@comcast.net for information about ensemble workshops in Seattle, Washington.
Goals of the Lessons and Workshops
The lessons and workshops offer hope, encouragement, eliminate fears, improve technical skills and establish confidence in the student's musical life style. Each student will gain self respect and confidence in their playing and will be a more musical player with more depth.
The intent is to help broaden the student's ability and vision of music by explaining:
What to Practice
How to organize a practice schedule
Practice techniques
Composing
How to reveal the special qualities and uniqueness of each individual student/musician
Overcoming fears while playing music
Establishing confidence
How to listen and what to listen for
Strengthening the time feel
How to participate in a small group format, where the music becomes the focus of attention rather than the individual
Purpose and Commitment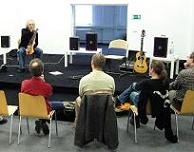 Books by David Friesen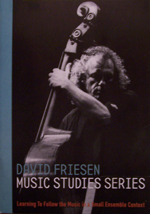 Music Studies Series- Learning To Follow The Music in a Small Ensemble Context.
Price: $10
Original Musiccontaining 25 of David Friesen original compositions including five compositions in each of the following styles: Straight Ahead, Ballad, Odd Time, Waltz and Open Eighth Note Feel.
https://youtu.be/hdvLQGdtG_k
Send email to cpm@davidfriesen.net to order either book.