Studies on How to Follow the Music in a Small Ensemble Context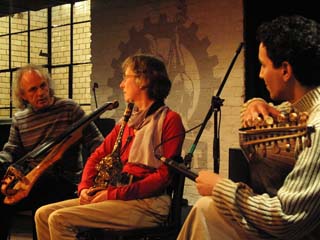 David Friesen is now accepting bass students for lessons and students on any instrument for workshops.
Watch a video of David teaching a college workshop:

http://youtu.be/SgbeVTQxg_k
Goals of the Lessons and Workshops
The lessons and workshops offer hope, encouragement, eliminate fears, improve technical skills and establish confidence in the student's musical life style. Each student will gain self respect and confidence in their playing and will be a more musical player with more depth.
The intent is to help broaden the student's ability and vision of music by explaining:
What to Practice
How to organize a practice schedule
Practice techniques
Composing
How to reveal the special qualities and uniqueness of each individual student/musician
Overcoming fears while playing music
Establishing confidence
How to listen and what to listen for
Strengthening the time feel
How to participate in a small group format, where the music becomes the focus of attention rather than the individual
Purpose and Commitment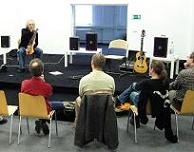 For More Information
David Friesen can be reached at cpm@davidfriesen.net to acquire about lessons.
Dan Waineo can be reached at danwaineo@gmail.com for those interested in the ensemble workshops in Portland, Oregon. https://sites.google.com/view/david-friesen-jazz-workshop/home
Jerry Simons can be reached at jsimo@comcast.net for those interested in the ensemble workshops in Seattle, Washington.
Music Studies Book Series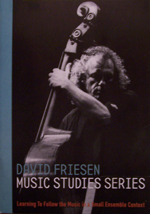 David Friesen now has available a book based on his workshops:

Music Studies Series- Learning To Follow The Music in a Small Ensemble Context.
Price: $10